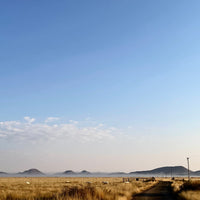 South African Winter Wool Festival 2023
Nestled in the heart of South Africa, the expansive Karoo region holds a special place in the world of fiber.
Read all about our Karoo adventure at the 2023 Karoo Winter Wool Festival!
Read it now!
Shop Merinos & Kid Mohair-Silk
Testimonials
I am so impressed by your customer service. Thank you so much.

L. S., Colorado
I've just completed a shawl with Eco Fusion to gift, but loved the result so much, I'm going to make another for myself!

J. S, United Kingdom
I am in love with this yarn! [Eco-Fusion]

P. H. , Texas
I met you at Vogue Live NYC and purchased yarn for [the Abalone Shawl Kit].
I LOVED making it and had the pleasure to send one to my sister in the Netherlands. She is thrilled.

Frankie, USA.
I wanted something soft and machine washable and this yarn [Eco-Fusion] along with those cute little mini skeins [Eco-Bonbons] just happened to work perfectly for colorwork! 

C. S., New York
Follow us on Instagram
See What We're Up to!